Hi, everyone! This might be a bit of a lengthy post, as well as a departure from norm, so grab yourself a cup of coffee. Here's what I'm drinking out of today:
Here's something personal that I haven't shared: I'm a huge coffee addict. I started drinking "coffee milk" around age 7 every morning with my mother, when she'd give me a mix of about 90% milk and 10%
decaf
coffee (relax, people). I wasn't allowed the real stuff until I was old enough to drive myself to the local gas station. My hometown was rural enough that Starbucks was a 45 minute drive until about 10 years ago!
I actually put this in my newly-renovated bathroom:
And that brings me to part of today's topic- where I've been.
I've been spending less on makeup and beauty as a whole as of late (don't let the hauls fool you). For instance, I only bought the Chanel summer quad about a week ago. And from summer releases as a whole, I think I purchased a sum total of the Chanel quad, all 5 Chanel longwear polishes, the green Chanel liner, the Essie minis.....<thinking>.... I think that's it! Summer's usually a lean season for me as a pale person who embraced my porcelain-ness and refuses to self-tan for some personal and rather controversial reasons. Oh! I've bought a bunch of the new Benefit brow products, but somehow they slipped my mind since I just had my hair redone and I legitimately
needed
new brow products because, you guys... my hair is
so
dark. I love it!
I'm not less interested, but I have other priorities. I've been neglecting other parts of my life after going through a rough period. In April, it all came to a head when I was looking at my Benjamin Moore Marblehead Gold walls and water-damaged ceiling in my tiny, windowless bathroom: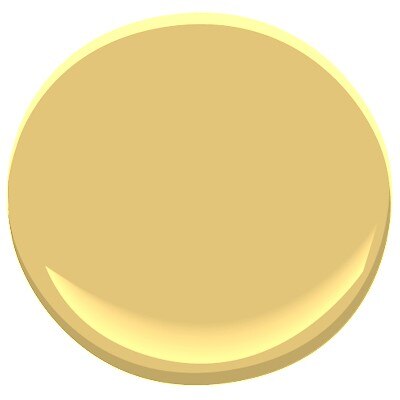 Via Benjamin Moore's official website
But really, it looked like this, at best. Remember, no windows:
Via: http://www.lifamilies.com/chat/p/153415_1.jpg
I consider this regrettable mustardy gold a relatively minor acting out by someone who grew up in an all-white-walled home and had never been allowed to paint before. Suddenly, I could PAINT ALL THE COLORS!!!!! So, I restrained myself to pastels- except Marblehead Gold. Whoops. I got tired of it shortly, but I was tired, lazy, and burnt out on painting. It was the black and gold shower curtain that finally made me snap into action though.
I've been working on the bathroom since 2012, though. The running joke is that this is really the world's slowest renovation. When I moved in, one of many quirks I noted was a hand shower instead of a normal shower head. (I bought a FSBO and overlooked a
lot
for location, let's just say. I overpaid, looking at the long run. My short commute has paid off.) Turns out, the grout had failed and instead of actually replacing the grout that would flood the neighbors, the previous owners swapped the shower head.
Niiice
. So, I've been working on this slowly ever since.
I actually found the Flamingo inspiration for the whole design shopping with my parent. Flamingos, go figure.
That's a little heavily filtered, but you can get the idea. I already had light brown tiles in the surround that would be hidden, so it's literally a blank canvas. The only things I didn't want to change were the floors, sink, and toilet.
This photo is more accurate:
And
AHHHHHHHHH
isn't that beige (Actually, that's #1031 Carlisle Cream for reference) far more serene?
Over the course of 5 weeks, I did the following, in no particular order (keep in mind, I work full time):
Painted 4x coats of paint on walls- 2 to cancel out the gold/purple, 2 for color. And yes, I made it BEIGE. And I love it.
Did major drywall repair in at least 10 places, minor in about 8 others before doing all that paint. Partially because....
Removed old, nasty 1980s contractor grade anchored-in towel bars that killed my wall in the auxiliary vanity area!
Did serious repair on the ceiling from prior (Corrected) water damage- sanding, jointing compound layers for multiple days, then 2 coats of paint
2 coats of trim paint
Removed 3 doors from hinges; sanded, repainted, rehung
Changed all hardware, lightswitch covers, shower rod, etc
Removed 2x recessed metal medicine cabinets, reframed openings, installed new recessed medicine cabinets (neighbors loved my new reciprocal saw at 9am Memorial Day Sunday!)
Removed all globes from light fixtures and removable bits, painted/dipped with acrylic paint (ala Young House Love)
Disassembled 2x vanities; sanded; applied 6 coats of gel stain plus clear coat; reassembled; changed and added new hardware (I went to all satin nickel)
Changed 2x faucet assemblies to new ones that light up when they're in use
Un-did prior disaster DIY plumbing work done by the prior owner (the same one that, rather than actually replacing failed grout just bought a hand shower. yeah.)
Fixed a couple of minor things with the toilet (no details necessary)
Re-lined 2 vanities & re-organized
The fun stuff: lots of fun shopping for white, teal, and coral accessories. Only 2 flamingos in the place though- on the shower curtain and in a rug in the auxiliary area.
(I
think
that's the full list)
What's left to do in there?
Re-seal grout and caulk on tub/tile
Get tub re-glazed
Change out the door handles to make them uniform (I can see rubbed bronze, gold silver, and satin just sitting here. Thanks, previous owners for caring about details.)
Hang mirrors I bought that are too heavy for one person
Eventually change light fixtures once I find ones under $400 that I like!
Purchase a clock.
Anyone who even somewhat enjoys DIY knows what I'm about to say: the good news is that I kick butt and take names and love my bathroom. The bad news is that now I have a long list of things I want to do
everywhere
. And limited funds to do so. Rather than blogging, I'm investing my time and money into my home.
Ironically, one of the biggest things I've been having an issue with is trying to figure out what to do with my stash. I'm still furious about this, so I'm likely going to offend people. I spent months researching the right piece of storage that I could blend into my existing furniture (I'm glad Helmers work for many of you; it's not right for my home). I found the
perfect
piece. Plenty of storage, unstained wood (so I could customize both stain and hardware), and affordable. And then people who couldn't be bothered to keep an eye on their kids or teach Precious not to climb on the dressers got it taken away from me
the very damn week I'd already rented a damn truck to drive to flippin' Ikea and buy the damn dresser.
I'm sincerely sorry about the kids, but here's a few points: 1. I don't have kids 2. Please watch
your
kids. 3. If your kids are so badly behaved that they can't be trusted not to try to climb the dressers, you're not invited to my personal home anyhow. 4. Why should
you
be able to dictate what goes in
my
home? Every time I look at my temporary plastic storage that I'm stuck with indefinitely, my blood boils. Parents, watch your kids. Somehow we made it through the 80s with parents caring less than now. Get out of my reno and especially get the hell out of my bedroom!
So until I have a permanent home for my stash (probably never thanks to the best parents of the world), I'm slowing down my collecting. I've been getting back into drugstore products again (my interest waxes and wanes), so look for a few new posts on those topics.
If you've made it this long- thanks!
The saddest part of my reno? My Benjabelles were broken!! My Instagram shows my sad brush drying game these days- and the tub that
needs
to be reglazed, stat.