Since I'm re-discovering the fun in blogging and I think we could all use a pick-me-up on Wednesday (side note: although it's a short week here in the US, those often seem to be the longest!). I'm playing around with a new feature idea- Style Wednesday. Think of it as a break from straight up beauty for a brief moment.
Today, I present 5 investment handbags that I feel every professional woman should have in her closet!
Before I was a beauty junkie (really, an interruption to the beauty-love), I was a purse snob. However, something amazing happened along the way. I was able to edit my collection down to just ones that I love and use. While I'm not saying that everyone should buy these exact bags, I recommend these styles to curate a truly useful collection. For instance, I may recommend Kate Spade when you can afford the classic Chanel (which I'd love but can't fathom at this point in my life). Or, you may need Steve Madden or Nine West. Think of these as my suggestions for somewhat-affordable investment pieces.
1. Balenciaga City Bag, $1545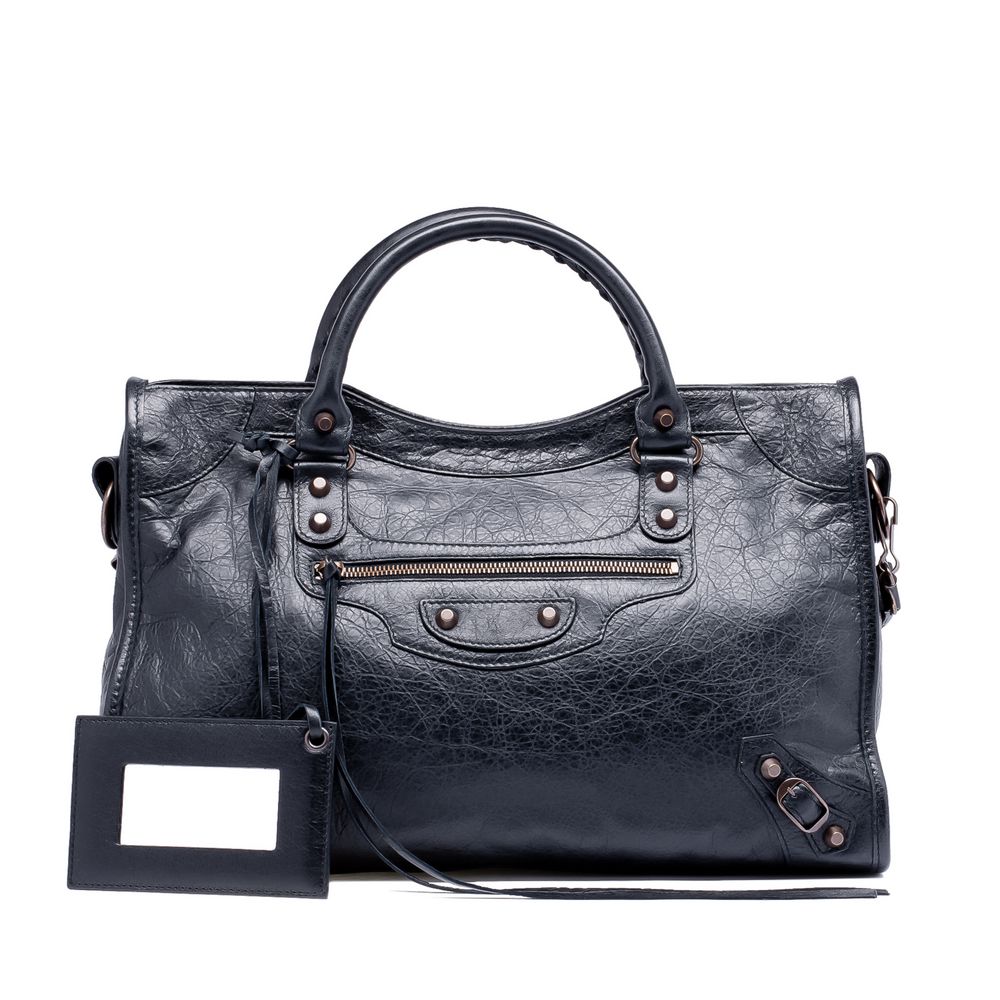 Stock image via Balenciaga.com
This was the first It-Bag that I fell head over heels for. In the mid-2000s, Balenciaga City Bags adorned all of the celebrities' arms in a rainbow of colors. It took a few years and finding a pre-loved bag before I finally got my beloved 06 Black City. Although it's a lot worse for wear these days, the urge to get a Balenciaga stopped once I finally owned my HG bag. While I find black to be the perfect compromise between fashion and conservative office-wear, there are so many colors for you to choose from! Just beware of the many, many fakes. You can buy it directly from
Balenciaga online
, although I love looking through the collection at my local Neiman Marcus.
2. Michael Michael Kors Hamilton Large Saffiano Leather Tote, $358
Stock image via Nordstrom
Just to cleanse the palette from that first pricetag, here's a much more affordable investment bag. I lusted over this bag for years. I'm just sorry that I didn't purchase sooner! This image is Luggage, the color I own. I find that it matches everything. A word to the wise, go with the Saffiano Leather- it's waterproof. You can fit so much into this bag that it's the perfect office go-to. Available at
Nordstrom
, Macy's, and Michael Kors (among other places).
3. Kate Spade Sedgwick Place Large Phoebe Shoulder Bag ($478)
Stock image via Nordstrom
I'll be honest, I prefer the prior Gold Coast pattern, but I don't see it for sale from any reputable retailers. So, I'm going to talk about the latest version of Kate Spade's quilted leather totes with chain handles. It recalls classic Chanel, at a fraction of the price. Pro tip: the outlets have their own pattern of quilted leather bags, and often you can score a large tote for less than $200. Available in a number of colors (I own black, but have often thought about the cream as well) at
Nordstrom
and Kate Spade.
4. Longchamp Le Pliage- Large Tote ($145)
I truly believe every woman needs a Longchamp Le Pliage Tote or two in her purse wardrobe. I've literally traveled the world with mine, and they're the ultimate commuter bag that you don't have to worry about. For those living under a rock, these foldable totes are water-resistant and can truly take anything you can throw at them. Although $145 may seem steep for a nylon tote, I trust the construction of these. Available at
Nordstrom
.
5. Louis Vuitton Speedy ($890-$910+)
The Speedy is a classic handbag by a classic manufacturer and a classic shape. You can decide the size, although I recommend either the 25, the smallest, or the 30 at largest. Otherwise, they start to droop too much and it looks like you're carrying luggage. If she can afford it, every woman who wants a LV should have one. Like my Balenciaga, I was able to find a pre-loved Speedy. I happen to love the patina on the handles more than the raw vachetta leather, so it works. I've had mine authenticated, so I don't have to worry. Don't mess with fake handbags, just buy directly from
LV online
. I'm showing the Damier Ebene pattern, but you can find the Speedy in so many patterns and sizes that there's one for everyone.
That's it for this week's Style Wednesday!